By Lizzie Devitt
Toddi Steelman, the Stanback Dean of the Nicholas School of the Environment recently spent a morning on Capitol Hill for a round of meetings that highlighted faculty expertise at the Nicholas School and the need for evidence-based decision-making.
The dean highlighted the importance of continued federal funding for research to enable university researchers at the Nicholas School and elsewhere to pursue the advancement of environmental science and technology to benefit policy matters ranging from climate change, coastal resiliency and environmental health. As a result of this investment, Dean Steelman explained, lawmakers are able to draw upon accurate research and translate it into effective policy solutions.
.@DukeEnvironment Dean Toddi Steelman (@EnviroWonk) visited DC last week to meet with several members of Congress. While in town, she spoke with us about the importance of evidence based research in the lawmaking process. pic.twitter.com/KBUUUGmBiu

— Duke in DC (@DukeinDC) November 22, 2019
Dean Steelman began the morning with one of the newest members of the North Carolina congressional delegation, Representative Greg Murphy, M.D. (R-NC). Rep. Murphy recently won a special election to represent the Third Congressional District in North Carolina, which covers a large portion of the coast and is home to the Duke Marine Lab.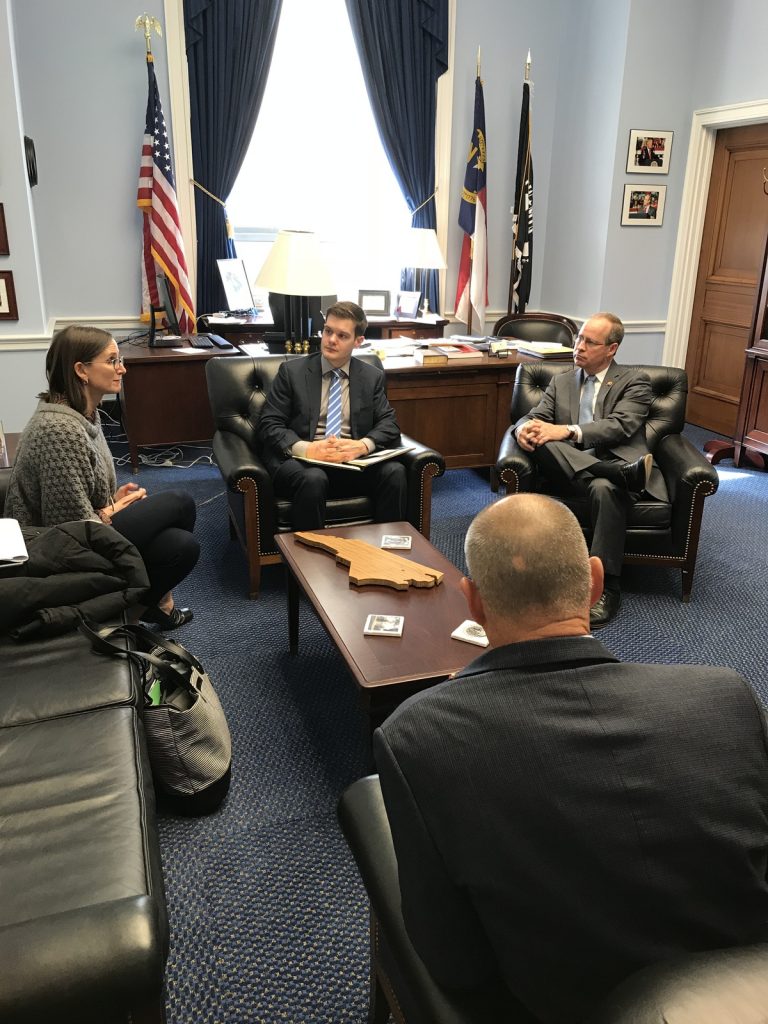 The two discussed many of their common interests regarding the coastal region of North Carolina including building coastal resiliency before, during and after storms impact communities. Steelman shared the wide range of expertise at the Nicholas School, including research from the Duke Marine Lab, and the school's outreach to down east counties. Noting Rep. Murphy also represents Camp LeJeune, Steelman also highlighted some of the ways Duke Marine Lab researchers collaborate with the Department of Defense on issues impacting coastal land management and marine mammals.
Steelman also met with two Duke alums currently serving in Congress, Representatives Mike Levin (L'05) (D-CA) and Scott Peters (T'80) (D-CA). Those conversations focused in part on the wildfires ravaging California and potential policy considerations, which is one of Steelman's areas of expertise. Joining the meeting with Rep. Levin was Duke Environment Leadership Masters of Environmental Management student Jonathan Gilbert, who also serves as Levin's legislative director, and staff from the House Select Committee on the Climate Crisis, on which Levin serves.